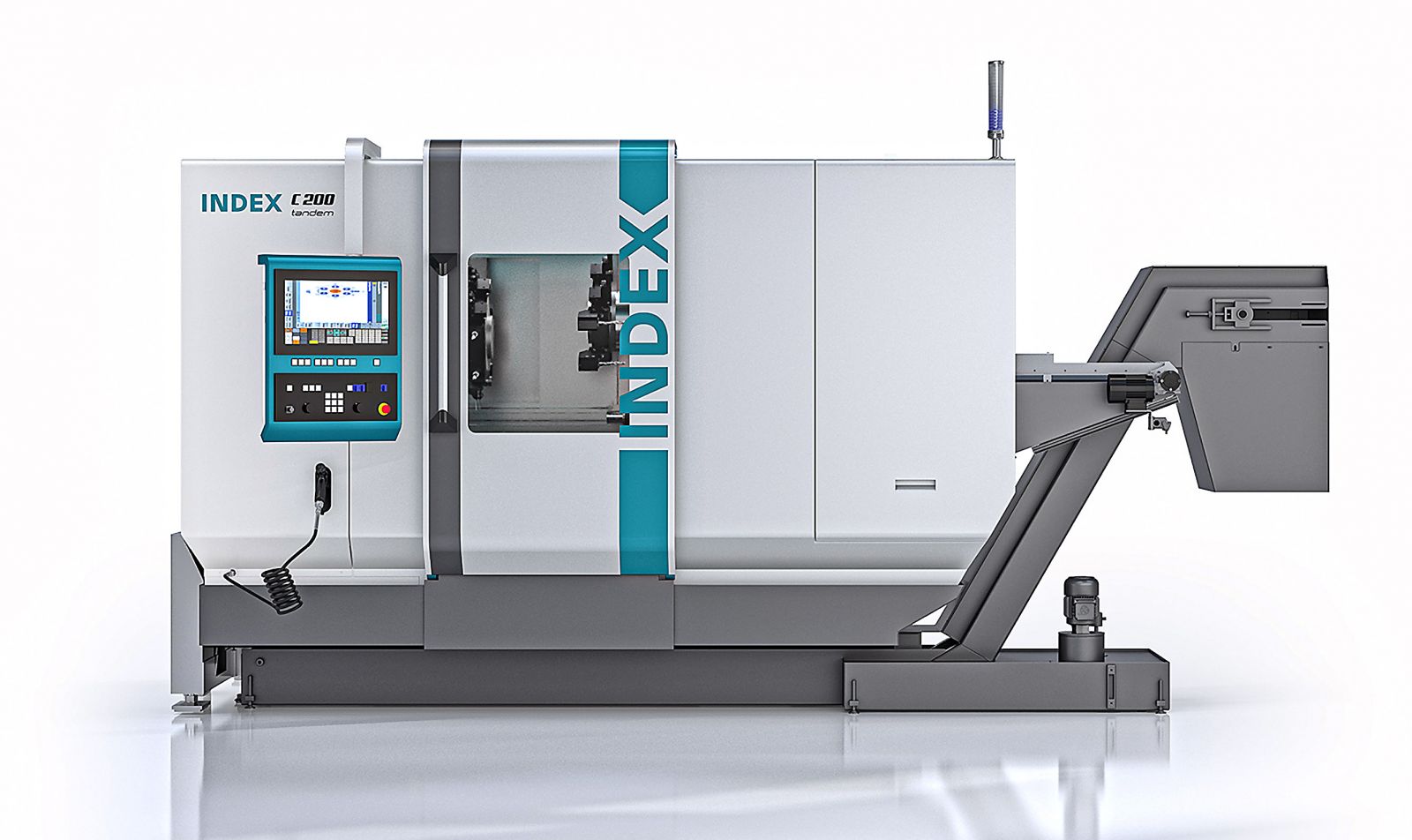 Even in its standard version, the C200 lathe built in Germany by Index-Werke is a highly productive bar auto with three turrets and two spindles that are horizontally opposed. Now the manufacturer has introduced a tandem version with two main spindles mounted side by side and two counter spindles for even more cost-effective production. Sole sales and service agent in the UK, Ireland and the Middle East is Kingsbury.
The new Index C200 tandem, which has an identical machine housing to that of the original lathe, doubles production output in the same footprint without increasing labour or energy costs. The three VDI-30 tool turrets, which can be used simultaneously, have remained the same in terms of their arrangement, power, speed and feed rate.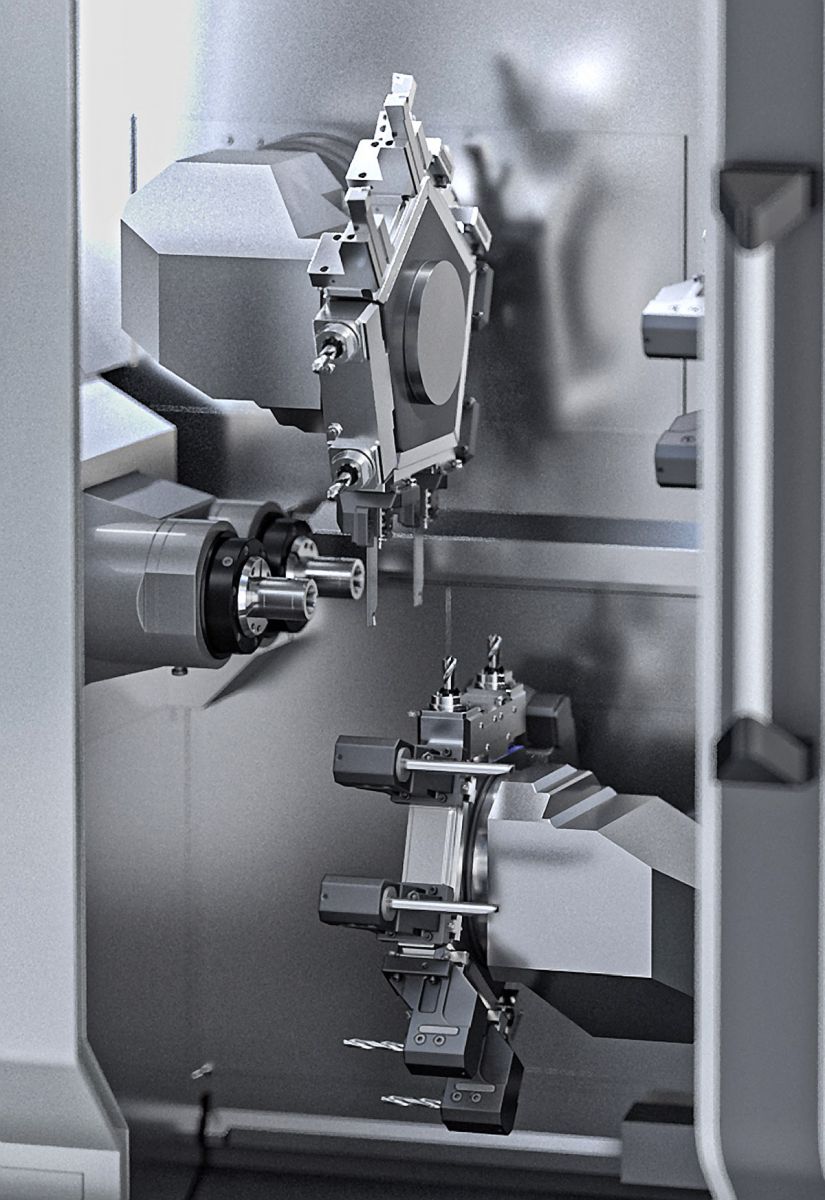 New however is the turret design, which enables five double tool holders to be mounted. Each side is equipped with identical tools in pairs, fixed or live, which are used in parallel at the main and counter spindles for simultaneous front-end and rear-end machining.
Bar stock up to 52 mm diameter is fed by the specially developed Index MBL52 tandem magazine, allowing two bars to be advanced into the lathe at the same time. An integrated handling device was also developed, whereby two grippers ensure that the pair of machined components are removed from the counter spindles and placed on a conveyor belt to exit the machine quickly and without damage.
Index's patented SingleSlide guide system remains in use for the tandem version of the C200. Kinematically driven steel plates replace compound slides for supporting the three turrets, significantly reducing the distance between the turret centreline and the point at which it is driven.
The result is a structure with double the stiffness of a conventional lathe, increasing the resonant frequency of the machine and damping vibrations. There is more latitude for finding the 'sweet spot' for any combination of cutter, toolholder and workpiece material, allowing increased metal removal rate. Accuracy and surface finish are also improved, as is tool life by up to 30 percent.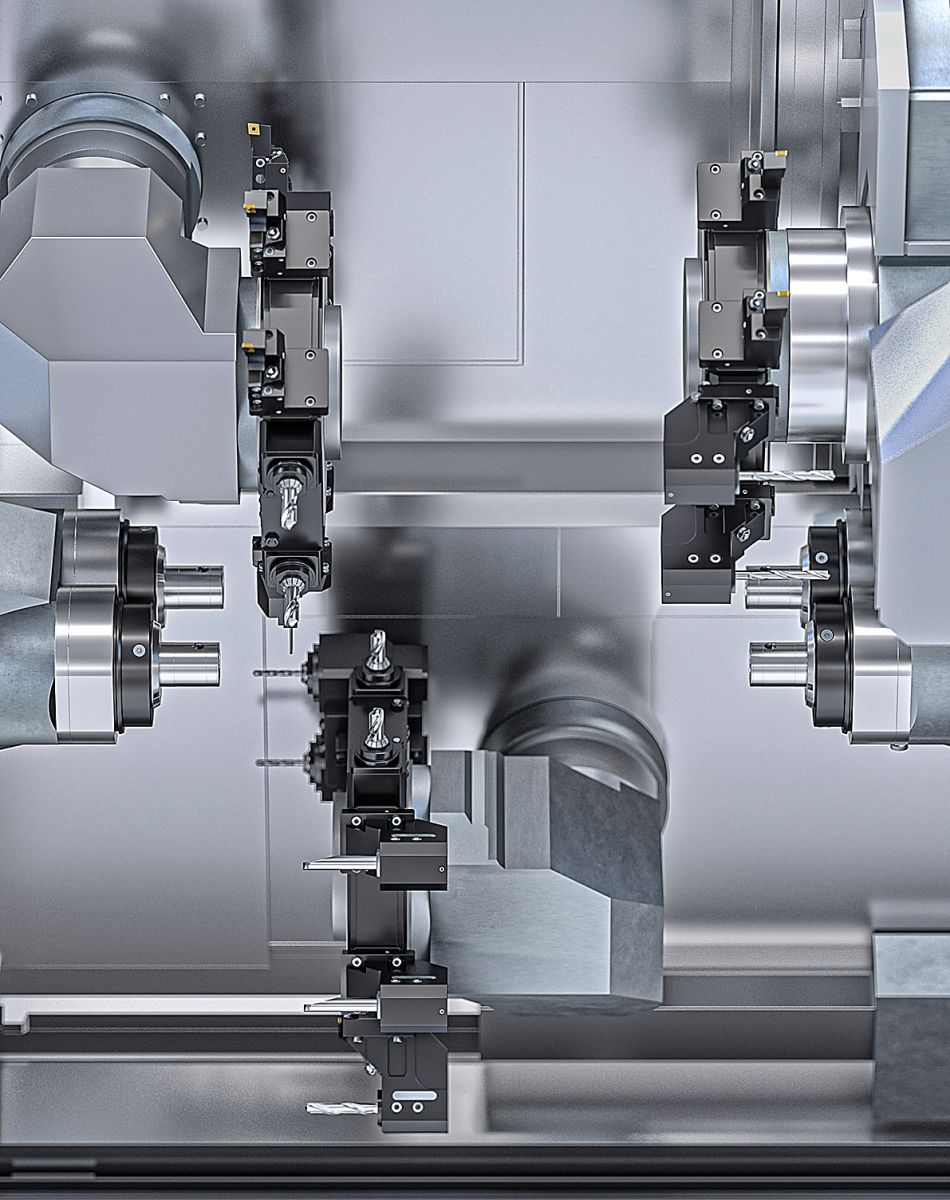 Spindles rated at 20/25 kW, with a maximum torque of 115 Nm and a top speed of 4,500 rpm, ensure powerful machining. Traverse rate of the counter spindles is highly dynamic at up to 50 m/min. Control is by the Siemens S840D sl, which in combination with an 18.5" touchscreen forms the basis of the Index iXpanel, an Industry 4.0-ready operating system that enables integration of the machine into a customer's network.      
On behalf of:       Kingsbury, Quay Lane, Hardway,
Gosport, Hants, PO12 4LB.
                              Tel: +44 (0) 23 9258 0371.
                              Contact: Richard Kingsbury, Managing Director.
                              Email: solutions@kingsburyuk.com
                              Web: www.kingsburyuk.com
                              Kingsbury, Dubai South Headquarters,
                              Building A3, Office 513, PO Box 712784,
                              Dubai, United Arab Emirates.
                              Tel: +971 (0) 4 887 6325
                              Contact: Neil Harrington, Regional Director
                                             & General Manager
                              Email: solutions@kingsburygulf.com
Issued by:            THE RIGHT IMAGE Ltd
                              PO Box 42, Twickenham, TW1 1BQ
                              Tel: +44 (0)20 8891 0603
                              Contact: Chris Wright
                              Email: chris@therightimage.net
Release no:         1408(PR)